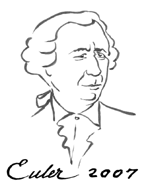 SUDOKU CHALLENGE 2007 @ Swiss Embassy
The tercentenary of the birth of the famous Swiss mathematician Leonhard Euler
To celebrate the 300th anniversary of Leonhard Euler, the famous Swiss mathematician who is also considered the grandfather of the SUDOKU puzzle, the Embassy of Switzerland in Tokyo will hold a SUDOKU competition SUDOKU CHALLENGE 2007@SWISS EMBASSY on Saturday, July 21, 2007 at the Residence of the Swiss Ambassador in Tokyo.
Born in Basel, Switzerland, Leonhard Euler spent his very productive life in St. Petersburg/Russia and in Berlin/Germany. He is considered to be the most prominent mathematician of the 18th century and may well be compared with Galileo Galilei, Isaac Newton or Albert Einstein.
SUDOKU first became popular in Japan and gradually reached worldwide fame. Euler's work on Latin Squares laid the groundwork for today's SUDOKU puzzles and is such creating a unique link between Switzerland and Japan. The Embassy of Switzerland celebrates the year 2007 as "Year of Leonhard Euler" and will hold a SUDOKU competition with the cooperation of NIKOLI Co.,Ltd., Tokyo.
The "SUDOKU CHALLENGE 2007@SWISS EMBASSY" will be organized for 3 categories of competitors: Senior citizens, Families and General. Prizes include round-trip air ticket/accommodation to Switzerland.
Venue:
Saturday, July 21, 2007 14:00 to 18:00 at the Residence of the Swiss Ambassador, Tokyo
Attendants:
The attendants will be selected according to the following three categories. Among applicants, the selected 20 people each in "General" and "Senior" and 6 groups in "Family" category will be qualified to attend the competition to be held on July 21.

Qualification Requirements for each category:

Senior Citizens: anyone who is 60 years of age or older.
Families: 3 people as a group which includes more than 2 generations. It must include at least a person who is at junior high school age and under.
Examples:

1 parent + 2 children,
2 parents + 1 child,
2 grandparents + 1 grandchild,
1 grandparent + 1 parent + 1 child.

Uncles/aunts or nephews/nieces are considered as family.
General: anyone.

How to apply:
Applicants are required to fill out the required information (postal code, address, name with hiragana beside it, age, occupation, telephone number, the category the applicants wish to sign up) on a postcard and send it to the following address. (Those who wish to apply to the Family category need to write all participants' names and ages.)

Sudoku Challenge 2007
Embassy of Switzerland
5-9-12 Minami-Azabu
Minato-ku, Tokyo 106-8589
Deadline: Thursday, June 21, 2007 (as indicated by the postmark on the postcard.)

Participants for each category will be selected by lottery. The selected participants will receive a participation certificate by post by July 1, 2007.
Competition:
The competitions will be held by category. Details of the event will be notified to the participants in due course.
In case more than 1 person (group) stand first, 1 person (group) will be selected as first-prize winner by lottery.
Transportation:
The applicants bear the transportation expenses to the venue.

An awards ceremony will be held after the competition, followed by a reception.

Prize:
The first-prize winner of each category will be given round-trip tickets to Switzerland (with SwissPass and 2 nights stay at a 5-star hotel, Hotel Euler in Basel).
The second-prize winner of each category will be given a Swiss mechanical watch, the Oris Leonhard Euler edition.
The third-prize winner of each category will be given a prize from Bally Japan, Ltd.
Organized by:
Embassy of Switzerland
Co-organized by:
Switzerland Tourism
Special Sponsor:
NIKOLI Co.,Ltd.
Co-sponsors:
Bally Japan, Ltd.
Basel Tourismus
Heidiland Mineralwasser AG / AQUA STORE AND BAR CONCEPT
Ikeda Meikoudo
Lindt & Sprüngli AG / Rokko Butter Co., Ltd.
ORIS / EURO PASSION SA
Presence Switzerland
Ricola / Nisshoku Co., Ltd.
Swiss Business Hub Japan
Swiss International Air Lines
Swiss State Secretariat for Education and Research
UBS AG, Tokyo Branch
(in alphabetic order)
Supported by:
Ministry of Education, Culture, Sports, Science and Technology
Mathematical Society of Japan

Contact:
Public Affairs Section, Embassy of Switzerland
5-9-12 Minami-Azabu
Minato-ku, Tokyo 106-8589
Fax: 03-3473-6090
E-mail: vertretung @ tok.rep.admin.ch
---
v1.1.01c/en-ja