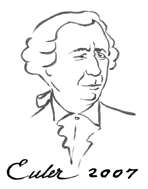 The Leonhard Euler Tercentenary - Basel 2007
On April 15th, 2007, the birthday of the great Swiss mathematician and scientist Leonhard Euler (1707-1783) will recur for the 300th time; this presents a good occasion for reflecting on his life and his works in their historical context and in their implications for our time.
During the whole Euler Tercentenary year, the general public will have various opportunities for encounters with mathematics, the exact sciences, and their history. These activities are being planned by a Program Committee under the patronage of the Swiss Academy of Science (SCNAT).
The program will include:
Several other institutions - including the Russian and the Berlin-Brandenburg Academies of Science and the US-based Euler Society - are planning their own activities for the celebration of Euler's 300th anniversary; please consult the links.
Newsletter
NEW The 6th newsletter is out now!

Read ...
Congress SCNAT
Paper of Prof. Jürgen Mittelstrass and communique on "Excellence - what does promote it and what does prevent it?".

Download ...
Comic
Euler Comic in English.

More ...
Biography
E.A.Fellmann's Euler biography available in English.

More ...
---
v1.2.07/en