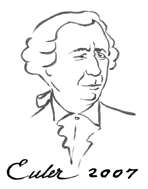 Exhibition "Experiencing Mathematics" in the Natural History Museum Basel

From June 2nd to September 23rd, 2007, the Euler Program Committee presents, at the Natural History Museum Basel, a special exhibition on "Experiencing Mathematics".
This exhibition has been conceived for the International Mathematics Year in 2000 by the European Mathematical Society, UNESCO, Centre.Sciences Orléans and several other organisations. It presents an interactive approach to mathematics by hands-on experiments, simulations, and commented demonstrations. Among the subjects explained we find mathematical tools for describing and understanding nature, the construction of telecommunication nets by graph theory, or the equations which govern financial markets. Altogether, the exhibition shows how ever more diverse and sophisticated mathematics helps in understanding an ever more complex world.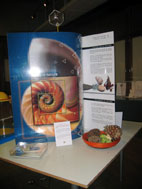 For the showing at Basel, some additional panels will explain Leonhard Euler's contributions to the mathematical topics presented. The exhibition aims at a public of non-specialists and young people; competent animators will be present in the showroom.
Newsletter
NEW The 6th newsletter is out now!

Read ...
Congress SCNAT
Paper of Prof. Jürgen Mittelstrass and communique on "Excellence - what does promote it and what does prevent it?".

Download ...
Comic
Euler Comic in English.

More ...
Biography
E.A.Fellmann's Euler biography available in English.

More ...
---
v1.2.07/en